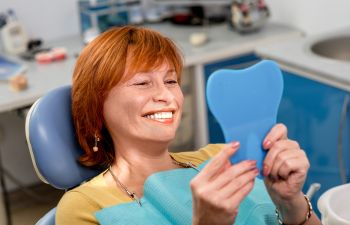 Most adults with crooked or gapped teeth assume the only fix is wearing braces. While orthodontics may be necessary in some cases, you may be able to achieve a straight smile without metal brackets, bands or aligners. Porcelain veneers are one of the most preferred and innovative treatments in cosmetic dentistry. What you may not know, however, is that veneers can also be referred to as "instant orthodontics" for those who qualify.
What are Porcelain Veneers?
Veneers are wafer-thin shells of porcelain that are bonded to the front surface of unsightly teeth. Essentially, veneers cover up dental imperfections instead of actually correcting them. In doing so, they are used for cosmetic purposes on the front or visible teeth of your smile. Porcelain veneers can be customized in shape, size and color to match the surrounding teeth and/or create teeth that you've always wanted. They are stain-resistant and offer a natural-looking translucency to mimic real teeth.
Could Porcelain Veneers Be Your Alternative to Braces?
Veneers are used to hide a wide range of dental flaws, including gaps, small/short teeth, crooked teeth, stained teeth and more. In some cases, such as when a tooth is lengthened or wide gap is addressed, a veneer can add strength to the tooth and improve the bite. When it comes to instant orthodontics using veneers, not all patients will be good candidates. More severe orthodontic issues or those that require a major bite adjustment will often need more conventional treatment methods, such as braces.
If that front tooth gap or slightly crooked tooth is what makes you hide your smile in pictures, we invite you to consider what porcelain veneers can do. The vision of wearing metal braces as an adult to straighten your smile may not be necessary. If you qualify for porcelain veneers, you can have a beautiful new smile in as little as 2-3 office visits. Call Dr. Mitzi Morris today to learn more.