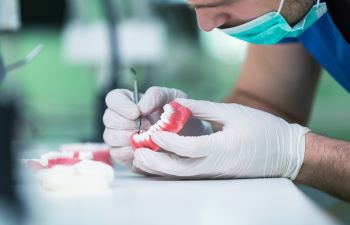 If you have a decayed tooth that needs treatment and your tooth is too damaged for a filling yet not damaged enough to need a crown, an inlay or onlay can be the perfect solution.
Inlays and onlays are often mentioned together, but they differ in where they are placed and how much coverage they each provide. Inlays are only used on the biting surface of the tooth, or on the top of the back teeth. Onlays, however, provide a more extensive restoration and can be used when the tooth damage is beyond the biting surfaces or cusps of the teeth. Both inlays and onlays are considered a restorative procedure that can effectively treat tooth decay.
Inlays and onlays are custom made in a dental lab for a seamless fit and therefore require more than one office visit. Although, they require more procedure time than a traditional filling, they provide numerous long-term benefits. Inlays and onlays offer many advantages, including the following:
Color: Tooth-colored, natural appearance and better resistant to discoloration
Strength: Stronger than a filling or crown and provides additional support for tooth
Tooth Preservation: Requires less of the damaged tooth to be removed
Budget Friendly: More cost effective than a crown
Improved Hygiene: Easier to clean due to its custom fit
Regardless of how severe your tooth damage is, it is important to know that there are a wide variety of solutions available to you to help you regain the smile you deserve. Dr. Mitzi Morris offers restorative procedures ranging from bonding to dental implants. If you don't really need a crown yet you want a stronger restoration than a filling, ask about your candidacy for an inlay or onlay.