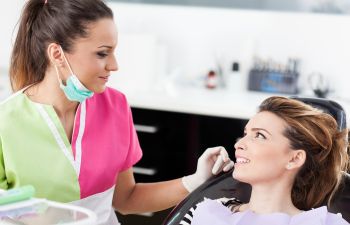 Dental fillings are used to repair an area of decay within the tooth. Once the damaged part of the tooth is removed, a special filling material (composite resin) is used to "fill in" the hole. Unfortunately, fillings don't last forever and there are many factors that can cause them to wear down prematurely or even fall out. New decay on the tooth is one of the most common reasons for a lost filling, but fillings can get damaged or dislodged due to injury, biting down on something too hard or persistent teeth grinding.
If you have lost a filling unexpectedly, don't panic. Here are some steps you can take to ensure your tooth is not further compromised.
Call your dentist. Without a filling, your tooth is left exposed and sensitive. Losing a filling can be considered a dental emergency, and your dentist will most likely fit you into the schedule as soon as possible.
Check for your mouth for the lost filling or broken pieces of tooth. You'll need to make sure you avoid swallowing or inhaling these structures. In some cases, you may also want to bring your filling or broken tooth piece to your dental office.
Keep the site clean and comfortable. It is important that you take measures to avoid infection around the affected tooth. Avoid chewing food on this side, as this will keep it clean as well as help you avoid discomfort. Brush the exposed tooth very lightly and rinse gently with salt water. If your tooth is especially painful, you may want to consider a store-bought temporary filling, which often includes a zinc oxide product. This should be used only to protect the tooth until you can see your dentist. It is NOT a substitute for a real filling from your dentist.
At the office of Mitzi Morris, DMD, we reserve time in our daily schedules to treat urgent dental concerns just like these. If you have lost a filling, please call us right away. We can schedule an appointment for a replacement filling as well as inform you about what you should do in the meantime to stay comfortable.