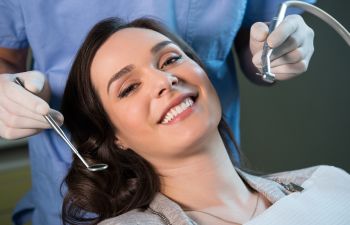 Did you know that oral cancer has the highest death rate compared to other common cancers? The reason is that patients often get diagnosed for oral cancer at later stages, making the cancer go from very treatable to deadly.
Oral cancer can impact any part of the mouth, including the tongue, cheeks or lips. Seeing your dentist for a routine dental checkup can be one of the most important steps you take against oral cancer. Why? Because your dentist will perform an oral cancer screening during your regular exam. If detected early, oral cancer is highly treatable and carries an 80% survival rate.
Preventing oral cancer means being aware of your risk factors. There are certain lifestyle habits that greatly contribute to mouth cancer, including tobacco use, excessive alcohol consumption and chronic sun exposure (lips). If you have a history of HPV, you will also need to be monitored more closely for changes in your oral tissues. In general, this type of cancer affects men more than women, especially those over the age of 40.  However, it is important to note that all genders, all ages and all races can get oral cancer.
Besides eliminating the lifestyle factors that could be putting you at risk, you also need to educate yourself on the warning signs of oral cancer. If you notice the following symptoms, it is best to schedule an appointment with your dentist sooner rather than later:
A mouth sore that doesn't heal after 14 days
Red or white patches or lesions
Pain, tenderness, or numbness in mouth or lips
Difficulty chewing, swallowing, or speaking
A change in the way your teeth fit together
At the office of Dr. Mitzi Morris, we conduct oral cancer screenings as part of our routine preventative care. Therefore, if you are tempted to skip your dental checkup because your teeth look and feel fine, we urge you to reconsider. An oral cancer screening is a quick and painless evaluation that could save your life!