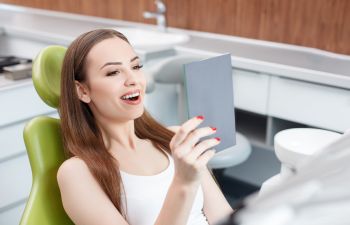 Due to its visible nature and delicate structures, the face can experience the most significant signs of aging. Wrinkles, fine lines and sagging skin can develop throughout the face, causing many of the unwanted cosmetic concerns that adults face in their 50's, 40's and even 30's. Fortunately, you don't have to go under the knife to turn back the hands of time. Today's advancements in facial injectables have made it possible to regain a youthful, balanced and rejuvenated appearance with a simple, no downtime procedure.
While crow's feet and forehead lines are common, there are also aging concerns that are known to develop around the mouth. This can quickly sabotage your smile and even take away from a pretty set of teeth. Adults often encounter nasolabial folds (the deep vertical folds that occur from the outside of the nostrils to the corners of the lips) as well as smoker's lines, smiles lines and others. When collagen production is depleted and elasticity is lost within the facial skin, gravity can take its toil and cause the lower face to sag and wrinkle around the mouth. This can even turn the corners of your lips downward – which creates the mistaken appearance that you are frowning when you're really not.
Aging concerns around the mouth can typically be reversed with the careful injection of a quality dermal filler, such as Juvederm. Juvederm fillers combat the natural aging process by adding volume to targeted areas of the face. Juvederm contains hyaluronic acid, a naturally occurring substance in your body that is responsible for stimulating collagen production. Juvederm has perfected their brand of dermal fillers in countless ways, as there are now varieties that provide an ultra-smooth and natural look and last for 1-2 years!
At Mitzi Morris, DMD, we are proud to be a leading cosmetic dentist that recognizes the value in offering dermal fillers and Botox for adult patients. Not only can we create a beautiful and healthy set of teeth, but we can also frame your smile by reversing facial folds and unwanted lines and wrinkles that commonly occur as you age. Turn your frown upside down and call our office to learn more about facial fillers!