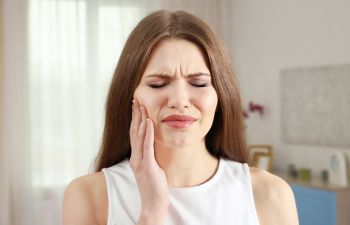 We rely on all types of joints in our bodies for everyday movement and function. In doing so, it is not uncommon for joints to wear out, become strained or cause disruptive pain. While you may be familiar with knee or hip joint problems, your jaw joint is equally susceptible to damage. The jaw joint, or TMJ, is one of the most used joints in the body, as it allows you to speak, eat and even yawn. When the TMJ suffers strain or dysfunction, however, the resulting symptoms can extend beyond the mouth and jaw.
What is the TMJ?
TMJ refers to the temporomandibular joints that sit between the lower jaw and the skull on each side of the head. These joints are what gives your jaw proper alignment and movement (opening and closing). When these joints become overused, misaligned or injured, pain often follows and the discomfort doesn't always stay localized in the jaw area. The TMJ is surrounded by and connected with several muscles, blood vessels and nerves that extend into the head, neck, face and ear region.
How do you know if you have TMJ or just an ear infection? A skilled dentist can help. However, there are some classic symptoms related to TMJ disorder including the following:
Jaw pain and/or soreness
Sore teeth
Facial pain and/or soreness
Headaches
Ringing in the ears
Loose teeth or teeth that feel loose
Jaw locking when open or shut
If you have headaches each morning or facial pain that you can't seem to pinpoint, consider talking to a TMJ dentist. Dr. Mitzi Morris is highly qualified to diagnose and effectively treat jaw issues with a range of treatment modalities. Call today to schedule your appointment in Roswell.