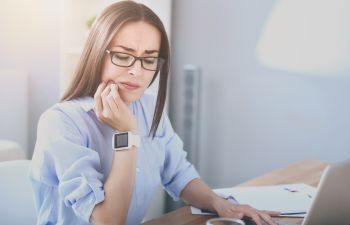 Sensitive teeth may not bother you at all—until you try to enjoy that cup of morning coffee or sample your kid's scoop of ice cream. If you feel shooting pain in your teeth when consuming something hot or cold, don't ignore it. Sensitive teeth can be caused by a wide range of dental issues, including those that warrant immediate attention and others that need to be monitored closely.
If you are experiencing your first or second episode with sensitive teeth, follow these guidelines to know when you need to schedule an appointment with your dentist.
Sensitivity Toothpastes
You've probably noticed that there are countless options in toothpastes, including those designed for sensitive teeth. These are ideal for reducing mild cold sensitivity. They contain special salts like potassium nitrate that work to seal porous areas of the tooth and prevent temperature changes from penetrating into the tooth nerve. If your sensitivity is extreme, skip this step and see a dentist sooner rather than later.
Investigate Further
You can conduct your own investigation at home to help determine the cause of your sensitivity. Answer the following questions to get started:
How many teeth are affected?
What do the gums look like around the sensitive teeth? Are they receding, red or swollen?
Is the sensitive tooth discolored or damaged?
Could the sensitivity be a side effect to recent teeth whitening?
Have you recently increased your intake of sodas or other acidic beverages?
Do you brush aggressively or use a hard-bristled toothbrush?
See a Dentist
If you have tried de-sensitizing toothpastes or changed your lifestyle habits to protect your teeth and still suffer from sensitivity, it may be time to see a dentist. With trained knowledge and advanced imaging, a dentist can give you an accurate diagnosis of your teeth sensitivity. Your treatment will be directly based on the cause, which may be one or more of the following dental issues:
Worn tooth enamel from brushing too hard
Tooth erosion due to highly acidic foods and drinks
Tooth decay, worn leaky fillings and broken teeth that expose the inner dentin layer of the tooth.
Gum recession
Teeth grinding
Temporary post treatment side effect – common after crowns, fillings and tooth whitening
At Mitzi Morris, DMD, we are equipped to treat all causes of tooth sensitivity. We want our patients to have a healthy smile, with teeth that provide optimal comfort. If you have been avoiding ice cream and coffee due to painful teeth, call our office today.