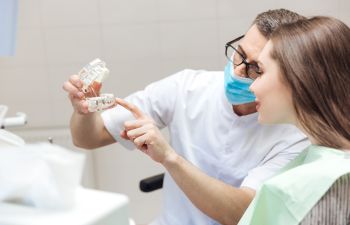 Dental implants represent the gold standard in replacing missing teeth. They involve surgically placing titanium posts into your jawbone to act as an artificial tooth root. The implants can then anchor a restoration on top, such as a crown, bridge or denture. This is a permanent solution and allows for unrivaled stability for prosthetic teeth. While dental implants carry an exemplary success rate, timing is important as to when you place them. Missing teeth should always be replaced as soon as possible to avoid consequences like shifting teeth, bone loss and loss of dental function. However, there are cases in which it is necessary to wait for your dental implant surgery.
Dental Implants and Kids
Dental implants are safe for adults of all ages, but kids are a different story. While kids and teens are just as susceptible to tooth loss as adults, they can't jump to implant dentistry as quickly. It is crucial that jaw growth be complete before getting implants. This typically does not occur until age 14 or 15 for girls and age 17 for boys. A dentist must confirm with x-rays that your child's jaw has finished growing before missing teeth can be replaced with dental implants. In the meantime, there are ways to ensure that surrounding teeth don't migrate towards the open space before an implant is ready to be placed.
Dental Implants and Orthodontics
Another timing concern regarding dental implants involves orthodontic treatment. While it is common for a patient to need both braces and dental implants, the order of treatment does matter. In nearly all cases, it is best to undergo orthodontics before getting implants. This is because once an implant is placed, it will not move or shift like your biological teeth. Getting your smile into proper alignment before a permanently fixed tooth is anchored into your jawbone is the optimal course of action.
Dental Implants and Bone Loss
When teeth go missing, there is a chain of events that naturally occurs within your mouth. One of the most critical, yet unseen, changes is within your jawbone. Without a tooth root to stimulate the underlying bone, it will resorb or atrophy over time. This process begins fairly quickly after a missing tooth. If you are of appropriate age and you lose a tooth, you'll probably have the green light on getting dental implants as soon as possible.
If you've lost a tooth and neglected to replace it for several months or years, you may have already suffered bone loss. In this case, you'll have to wait for dental implants and undergo a bone grafting procedure first. This ensures your implant has enough bone structure to securely support it once it is placed.
Have more questions about dental implants and the best time to get them? Call Dr. Mitzi Morris. Dr. Morris specializes in the repair and restoration of dental implants and can help you determine the best treatment plan to complete your smile.