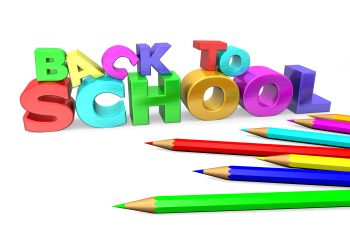 Regardless of the age of your child, routine dental visits and proper dental hygiene are critical. As your children head back to school this month, we encourage you to use this as a time to re-establish strong dental habits. The summer months can be relaxing and lazy, and it is common for both parents and kids to become lax on their dental care routine. Now that you have a school schedule to follow, it is important to incorporate strict brushing and flossing habits right from the start.
In addition to revamping dental care at home, it is also a good idea to schedule that dental cleaning and checkup with your family dentist– especially if you have a teenager going off to college who won't be home often. A routine dental appointment at the start of the school year can also ensure that minor dental problems are caught and treated early – before they cause pain or lead to disruptions for your child during school. For example, a small cavity that is developing can be detected by your dentist long before it produces uncomfortable symptoms, and this is common in children. An older child may need wisdom teeth removal, and this could be a time to do it before you have to take them out of school for the procedure. It is best to let a dentist evaluate your child's complete oral health before sending them off to school. After all, you want them at their best while receiving education, whether it is kindergarten or college.
Oral hygiene and routine dental visits are not the only components of a healthy smile. It is also important that you are feeding your child the appropriate foods and drinks to protect their teeth and gums. When it comes to "back-to-school" season, this includes providing healthy snacks in their backpack. Try to avoid sugary drinks and sticky sweet snacks such as gummies and raisins, as these can wreak havoc on the health of their teeth over time. Instead, try to incorporate raw fruits and vegetables. Strawberries are known to help whiten teeth and apples and celery can actually help scrub the teeth as they chew. Cheese is also an excellent option since research has shown this dairy product to have cavity-fighting powers.
Ready to schedule that routine dental checkup for your child? Call Mitzi Morris, DMD. We are happy to see your child before they head back to school this year!