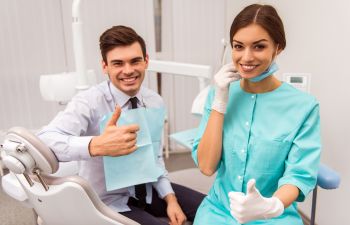 Do you experience anxiety or fear when it comes to going to the dentist? You are certainly not alone. In fact, it is estimated that up to 20% of Americans suffer from dental fear in some degree. Fortunately, modern dentistry has eliminated many of the discomforts that have been associated with past dentistry techniques. However, it may not always properly address the psychological factors that surround dental anxiety. A part from a fear of pain from the actual procedure, many patients also suffer anxiety from the following:
Sound of dental drill
Severe gag reflux
Feeling of being confined
Smell of latex
Fear of needles
If local anesthesia is not enough to relieve your anxiety or fear, conscious sedation may be the best solution. Sedation dentistry is routinely used throughout many dental practices. It can take multiple forms, depending on the patient's specific level of anxiety or fear. There is light, moderate and deep sedation. Patients may choose oral sedation, which involves taking a pill or sedative prior to your procedure. More commonly, patients choose sedation inhalation using Nitrous Oxide (Laughing Gas). Nitrous Oxide is a light sedation that is an ideal choice for many patients. It is safe for both adults and kids. Laughing gas allows patients to completely relax yet remain awake and even communicate with the dental staff if needed. Nitrous oxide sedation is administered through a nosepiece and its effects stop within minutes of removing the mask.
At Mitzi Morris, DMD, we proudly offer sedation dentistry throughout a wide range of procedures. If you are avoiding a routine dental cleaning due to fear or anxiety, please ask us about our sedation dentistry options. Using sedation dentistry is nothing to be ashamed about; however, poor dental care certainly can be. With today's minimally invasive dental technology and favorable sedation dentistry methods, you have every opportunity to have a comfortable (and even enjoyable) visit to the dentist.
Mitzi Morris, DMD, PC – Roswell Dentist
1295 Hembree Rd, Suite B202
Roswell, GA 30076
Phone: 678-459-2990