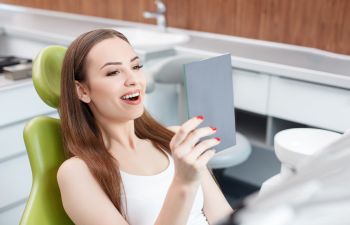 Gaps between a child's teeth are considered cute and even endearing. Unfortunately, adults don't get the same reaction. Improper spacing between teeth, especially between the two front teeth, can be a real threat to your self-confidence and quickly distract from your overall smile beauty. The good news is that tooth gaps can be fixed with a skilled cosmetic dentist. However, the type of treatment may vary from patient to patient based on the severity and location of the tooth gap as well as what has caused the unsightly spacing.
Determining the Reason for Your Tooth Gap
While it is not uncommon to be born with noticeable spaces between your teeth, there are also many factors that can contribute to them later in life. Here are some potential reasons for a gapped smile:
Extended thumb sucking or pacifier use as a child
Tongue thrust
Small teeth
Missing teeth
A large frenulum
Prolonged bruxism
Ways to Address Your Gapped Smile
After determining the culprit to your tooth gaps and carefully evaluating their severity, an experienced cosmetic dentist can recommend a treatment plan. Dr. Mitzi Morris offers a wide range of treatment options to address tooth gaps, whether the spacing is large or very minor.
Invisalign
When the spacing is significant and several teeth are involved, it may be best to consider an orthodontic treatment such as Invisalign. Invisalign aligners are a discreet and comfortable way to move your teeth into better alignment.
Dental Bonding
One of the most affordable and quickest ways to fix a tooth gap is with composite bonding. Bonding, however, is only effective for minor gaps. It involves using tooth-colored material to "build up" the sides of the affected teeth in order to close the gap.
Porcelain Veneers
Veneers are widely used to fix gaps between the front teeth. While they don't actually move your teeth closer together, the shells of porcelain placed on the front surface of your teeth can permanently hide your spacing imperfections.
Dental Implant
While an implant is by far the most invasive treatment for a tooth gap, this is a solution that should be used if the spacing is due to a missing tooth. Implants replace a missing tooth root and tooth so that you can avoid further misalignment, bone loss and other setbacks within your oral health.
Call a Talented Cosmetic Dentist
If you are ready to say goodbye to your embarrassing tooth gap, contact Dr. Mitzi Morris today. We are happy to discuss your concerns and explain your cosmetic dentistry treatment options for a more confident smile going forward!