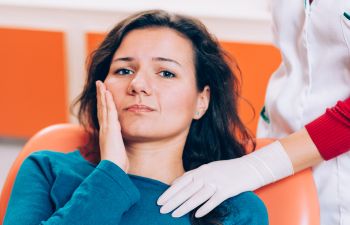 While your teeth get all the recognition, your jaws are doing all the work. Your jaws allow you to use your teeth and mouth, such as when you speak, chew, swallow, yawn and even kiss. Considering the remarkable responsibilities that we place on our jaws each day, it is understandable why the jaw joint (or TMJ) can become overworked and inflamed from time to time.  When the TMJ is damaged or distressed, however, the symptoms can be quite disruptive.
TMD, or temporomandibular joint disorder, is a condition that involves swelling, stiffness and dysfunction of the jaw joint and surrounding muscles. TMJ disorder can be caused by a number of factors, including teeth grinding, teeth clenching, misaligned teeth, missing teeth and excessive gum chewing. Regardless of the cause, the symptoms of TMD can range from mild discomfort to debilitating jaw pain.
Professional Help for TMD
A dentist always needs to be informed of your jaw discomfort, as this may not be evident on your routine exam. Most patients with TMD, however, have trouble keeping their jaw open for a cleaning or produce an audible pop when they open extra wide. Fortunately, a dentist can recommend a treatment based on the suspected cause of your jaw joint inflammation. This can include orthodontics, replacing missing teeth or wearing a nightguard to prevent bruxism.
At-Home Remedies to Relieve TMJ Discomfort
In some cases, the jaw joint can be remedied at home, especially if it is a temporary flare-up. In other cases, home remedies can be used as you are waiting for treatment from your dentist to start or be complete. Many patients are quick to seek relief, as TMD is associated with symptoms such as jaw stiffness, clicking/popping, ear pain, neck and facial pain and more.
The TMJ Association offers the following tips to find relief from a painful jaw at home:
Moist Heat to relax tense muscles.
Ice to decrease inflammation and numb pain.
Soft Diet to rest the jaw.
OTC Analgesics to relieve pain.
Jaw Exercises to regain mobility and promote healing.
Relaxation Techniques to relieve stress-induced jaw tension.
Side-Sleeping to provide support to neck and jaw.
In addition to the above-mentioned therapies, avoid specific lifestyle habits such as chewing gum and cradling your cellphone with your neck and ear. If you fail to find relief and have not seen a TMJ dentist, please schedule your appointment with Dr. Mitzi Morris. She is a talented dentist who offers effective solutions for patients suffering from TMJ problems.