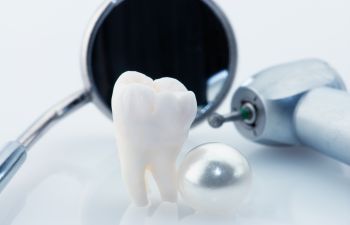 Dry mouth, also known as xerostomia, is a real oral health condition. It involves more than feeling parched after a long run or day at the beach. You may associate dry mouth with difficulty swallowing or that "cotton mouth" feeling when trying to talk. However, dry mouth can affect more than just your comfort. In fact, a chronic dry mouth can wreak serious havoc on your oral health.
Dry mouth doesn't always mean you need to drink more water, and staying hydrated may not completely resolve your oral dryness if you have xerostomia. There are many factors that can cause xerostomia, including the following:
Hormonal changes or imbalances
Antihistamine or allergy medications, prescription and over the counter
Chemotherapy or radiation
Certain health conditions, like diabetes, Sjögren's syndrome and lupus
Mouth breathing, breathing through the mouth
Smoking, alcohol use, excessive caffeine intake
Obstructions or blockage in the salivary ducts
Whether your dry mouth is something you can control or not, it can still cause threats within your oral health.
Risks of a Dry Mouth
If you have a dry mouth, you have a lack of saliva production. Believe it or not, we need adequate amounts of spit in our mouths to swallow and speak but also to rinse away food particles and keep our teeth and gums healthy. Decreased saliva, or a dry mouth, can cause the following:
Acidic oral environment and more bacteria
Weak or decayed teeth
Chewing and swallowing challenges and possible digestive issues
Bad breath
Your saliva essentially acts as a natural cleaning and rinsing mechanism for your mouth after you eat and drink. When the oral cavity gets too dry, your teeth, gums and quality of life may suffer. Fortunately, a dentist can treat your dry mouth.
At Mitzi Morris, DMD, we offer effective remedies for dry mouth. This may be as simple as chewing sugar-free gum and avoiding caffeine or you may be asked to try special mouth rinses that are designed to help trigger saliva production. To learn more about ways to combat xerostomia, please schedule your appointment at our Roswell practice.