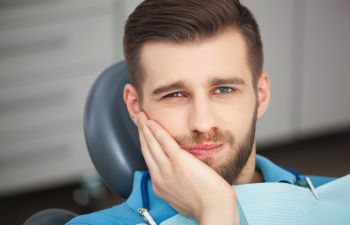 You are probably familiar with the phrase, "it's like pulling teeth." Unfortunately, pulling or extracting teeth has acquired a negative connotation. In reality, getting a tooth pulled at the dental office involves a quick and minimal discomfort procedure. Furthermore, by choosing Dr. Mitzi Morris, you can benefit from relaxing amenities, sedation dentistry and the latest techniques in modern dentistry to reduce or eliminate any pain.
Why Extract?
There are many circumstances that warrant a tooth extraction. While a damaged tooth will often try to be saved by other measures (filling or root canal), there are times in which the tooth is simply not able to be restored and may cause harm to your oral health. Here are some common scenarios in which tooth extraction is recommended:
Broken, cracked, and/or excessively decayed teeth
Non-functional, misaligned and/or impacted wisdom teeth
To prepare for full dentures when only a few teeth remain
Children who have impacted teeth or teeth that are blocking others from erupting
Orthodontic patients that need to relieve overcrowding
What To Expect?
After a thorough examination and set of x-rays to confirm the necessity of the extraction, we will carefully explain what you can expect during the procedure. We will anesthetize the area and gently rock the tooth back and forth to expand the socket and loosen the ligaments. Patients often feel pressure but are numb to any pain. You may also choose sedation dentistry if you are particularly apprehensive about the procedure. We always implement dedicated techniques to remove only the affected tooth, while leaving healthy surrounding bone and tissues untouched.
Post-Extraction Care
After your procedure, it is important to protect the blood clot that will form in your tooth socket. It is best to avoid using a straw, consuming hot foods or drinks and rinsing/spitting. We may also advise that you limit strenuous activity for a period of time. If the clot does get dislodged, you may experience symptoms of dry socket (or alveolar osteitis). In such cases, call our office promptly. For most patients, over-the-counter pain relievers and ice can address any post-operative discomfort. A small amount of bleeding and swelling is normal.
Teeth Replacement
Not all extraction cases demand teeth replacement. However, many of them do. Unless it was a wisdom tooth or an extraction for orthodontic reasons, you will likely qualify for tooth replacement. At the office of Mitzi Morris, DMD, we proudly offer dental implants and other options for permanent prosthetic teeth. Call our Roswell team today to learn more!