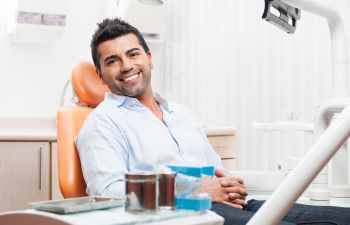 Starting from a very young age, you learned that decay (or cavities) was the biggest threat to your oral health. While cavities aren't the only dental health issue, they are certainly one of the most common – and they aren't just for kids. Adults can suffer from tooth decay too. In fact, the Centers for Disease Control and Prevention estimates at least 92% of adults have had at least one cavity in a permanent tooth.
With routine dental checkups, most cavities are caught early enough to be repaired with a simple dental filling. Fillings are an effective and long-term solution that can prevent the spreading of decay and help the tooth regain strength and integrity. Unfortunately, even modern day fillings can't last forever. Not only can filings become damaged, but they can also wear down and reach an endpoint in their lifespan. Here's some insight on if and when you can expect to replace your filling.
The Type of Filling Affects Longevity
While some fillings wear down quicker than others due to their location in your mouth or your oral habits (teeth grinding), the biggest contributing factor to your filling's lifespan is the type of material used. Modern dentists typically see two main types of fillings: amalgam and composite. Each type has a specific expectation for how long it will hold up before it needs replacement.
Amalgam Fillings
This was once the only type of filling offered. Amalgam fillings are composed of a metal mixture that is silver in color. They are known for their high durability, and most amalgam fillings can last up to 15 years or more. However, these fillings do not blend in well with your smile. They also contain mercury, which is a reason why many patients want them replaced with a tooth-colored alternative.
Composite Fillings
Tooth-colored fillings are the latest and most used type of filling. They do not contain metals. Instead, composite fillings are composed of a white glass and plastic mixture that can be seamlessly matched to your teeth shade. Composite fillings are also durable and generally last 10 to 12 years.
How Do I Know if My Filling Needs Replacement?
Keep in mind that a filling is designed to protect a compromised tooth. Therefore, if that protective barrier becomes damaged or wears down, your tooth is in danger. If you experience sensitivity or a change in the way your filling feels, contact your dentist promptly. It may be time to replace your amalgam or composite filling. Just like any dental work, however, you can maximize a filling's lifespan by taking care of your teeth and gums. This includes routine brushing and flossing, regular visits to the dentist and not using your teeth to open bottles and packages. If you have a teeth grinding habit, make sure you wear a custom mouthguard to protect your filling from premature wear and tear.
Are your dental fillings in good condition? Call Dr. Mitzi Morris to find out. A weak or loose filling that is ignored can compromise your underlying tooth and lead to more costly dental work in the future.