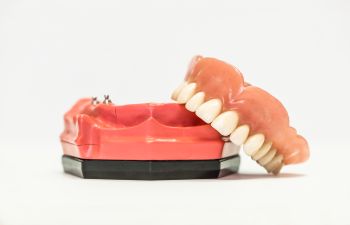 Do you have missing teeth? You have options. Patients are faced with two primary tooth replacement options today: dentures and dental implants. While choosing dentures can certainly save you some money upfront, it is worth considering several significant advantages that dental implants provide over dentures. Dental implants are considered the gold standard in tooth replacement and they are quickly changing the face of dentistry. When trying to decide between tooth replacement options, here are some key factors about dental implants that you need to know:
Permanent – Perhaps the biggest advantage in choosing dental implants is the fact that dental implants are designed to be a permanent tooth replacement option. Dental implants are prosthetic screws made of strong titanium that are placed in the jawbone to take the place of missing tooth roots. Once they have been allowed to heal, the screws fuse to the bone and are anchored securely into place. Prosthetic teeth (or crown restorations) can then be attached to the implants to take the place of one tooth or more multiple missing teeth.
Natural – Dental implants look, feel and function most like natural teeth. They are custom designed according to your existing teeth or new smile goals.
Comfortable – Unlike dentures, you there's no struggle with ill-fitting replacement teeth that may click, pop or slip. You won't have to deal with sores along your gum line or multiple trips back to the dentist to get your dentures to fit properly.
More Convenient – Dental implants do not require additional maintenance beyond routine brushing and flossing. There's no need to hassle with messy denture creams or suffer the inconvenience of taking them out and cleaning them each day. This benefit alone makes dental implants far worth it for many patients.
More Functional – Dental implants enable you to regain full function of your smile. You can eat, smile and speak with confidence. Often denture wearers restrict their diet and avoid foods that are difficult to chew. Unfortunately, this typically means that their food intake progresses towards a low-fiber, high carb diet. Long-term, this can lead to other health problems such as weight gain and diabetes.
Although dental implants are not for everyone, they certainly offer noteworthy benefits over dentures, despite the cost difference. Dr. Mitzi Morris offers top quality dental implants and she welcomes the opportunity to restore your smile in the most natural, comfortable and functional way.