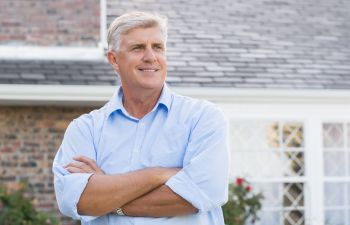 When an adult tooth is lost, it's gone for good. Fortunately, with the help of restorative dentistry, there are ways to replace a missing tooth with prosthetic options that look, feel and function just like real teeth. Choosing a tooth replacement solution, however, isn't always easy. Many patients end up weighing the pros and cons between two popular tooth restorations: dental bridges and dental implants.
Dental Bridge
A dental bridge is a time-tested approach to replacing missing teeth. Just as its name suggests, bridges rely on a false tooth or set of false teeth to "bridge the gap" of your missing tooth. Bridges are typically anchored on either side by dental crowns that are placed on your existing teeth. Most dental bridges are fixed in place for a permanent and natural-looking solution
Dental Implant
A dental implant is one of the most advanced and life-like options in restorative dentistry. The implant itself is a titanium post that is surgically inserted into the jaw bone, which is intended to work just like a natural tooth root. Once the implant has a chance to heal and fuse to the surrounding bone, a custom-made attachment will be attached to the implant. Depending on how many teeth you are replacing, this could be a crown, bridge or denture.
Dental Bridges vs. Dental Implants: Which One is Best?
With two excellent options, how do you choose? In the end, it is a personal decision you should make with your restorative dentist. However, there are some benefits worth highlighting for each. Bridges typically stand out as the more cost-effective option, and they are a great fallback for patients who do not have enough bone to support a dental implant. Bridges are also a quicker solution with very minimal recovery time.
Implants, on the other hand, may require a bigger upfront cost, but they are highly regarded as the most natural and realistic solution to tooth loss. They are also the only restorative option that prevents bone loss after missing teeth. Implants require no extra care, and they won't have any impact on the way you speak or eat!
Restorative Dentistry with Dr. Mitzi Morris
Still not sure which tooth restoration is right for you? Let us help. Dr. Morris will do a comprehensive review of your oral health history and listen to your personal goals to help you decide which option is best for you now and long-term. Our Roswell dental clinic offers dental implant restorations, dental bridges and much more. To schedule your visit, call our office today.