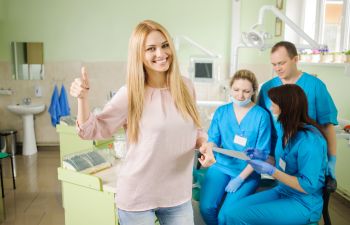 Are you hiding your smile due to chips, small gaps or discoloration within your teeth? Want to do something about it but don't think you can afford cosmetic dentistry? Consider dental bonding. Cosmetic dental bonding can correct a host of minor aesthetic flaws within your smile. Best of all, it is quick, painless and less expensive than other cosmetic treatments.
Dental bonding uses composite resin, a tooth-colored material that is gently painted onto the surface of your affected teeth. Your dentist will place the resin in layers. Next, a special curing light is used to harden each layer before it is custom sculpted and polished for final improvement. A skilled cosmetic dentist understands the artistry in shaping the composite resin to look natural as well as meet your ideal goals. Bonding doesn't require any drilling or other invasive tools. In fact, the entire process is completed in minutes without the use of anesthetic.
If you have the following types of flaws within your smile, consider a more conservative cosmetic solution using dental bonding:
Chipped Teeth
Misshapen Teeth
Worn Teeth
Decayed Teeth
Gapped Teeth
Discolored Teeth
Ready to learn if cosmetic dental bonding can recharge your smile? Call Mitzi Morris, DMD today to schedule your consult. We use the highest-grade materials available in order to promote the most long term return for your smile investment. The lifespan of your dental bonding can be extended with proper oral hygiene and regular dental visits. It is also important to eliminate harmful habits such as nail biting or ice chomping if you choose dental bonding.