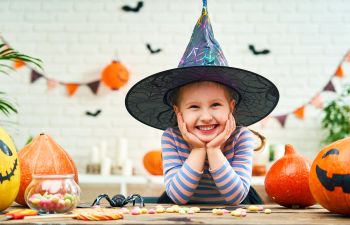 It's no surprise that Halloween is among the least favorite holidays for a dentist. A full night of bathing your teeth in sticky sugary treats will make any dentist wince in fear. However, we are not here to squelch your fun. We want families to enjoy the once-a-year chance to dress up and gather treats door to door. But, as your dental care partners, we'd also like to suggest a few ways that you can defend your smile during Halloween this year.
Choose Your Treats Wisely: Whether it is yourself or your kids, it is always better for your teeth to consume chocolate candies or those that dissolve easily in your mouth versus a candy that is sticky and hard. Not only can hard candies cause tooth fractures, but the sticky ones can linger on your pearly whites and cause sugar buildup in tight spaces between your teeth.
Carry a Water Bottle: Don't leave home without a bottle of water when you set out for your trick-or-treating adventures. There's likely to be frequent nibbling on candy throughout the night, so taking some sips of water between houses can do wonders for your teeth. The water will keep candy particles and sugars rinsed away, preventing them from bathing on your teeth all night long.
Consider Binging instead of Grazing: While this may not suit your stomach as well, when it comes to your smile health, it is better to eat your candy all at once instead of snacking or grazing on your candy bag throughout the day. This way, you can brush your teeth after you munch and ensure your teeth aren't getting trapped underneath all that sugar and acids for several hours.
Don't Contribute to the Candy Loot: It is nearly impossible to keep your child from getting any candy or treat on Halloween. However, you can do your part to give out healthier treats instead of candy. Consider these great tooth-friendly ideas for transforming a healthy fruit or veggie into the perfect Halloween bite.
Don't Forget to Brush: Before putting your tired goblin or exhausted ghost to bed, don't forget to take two crucial minutes to brush. This might be one of the most important nights of the year to perform your nightly oral hygiene tasks.
For more tips on how to protect your teeth this Halloween, turn to Dr. Mitzi Morris. We would like to wish everyone a safe and tooth-friendly night of trick-or-treating. If you encounter a dental emergency during your fun, please don't hesitate to call us.