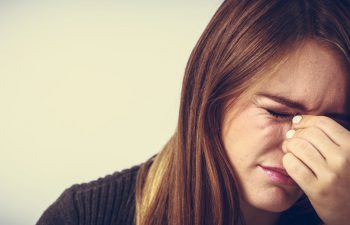 Only a dentist can properly diagnose headache as a dental-related condition. Dental headaches can occur from a variety of issues, including the following:
Tooth Decay and Infection
In some cases, your headache can be a referred pain from an infected or decayed tooth. This usually causes headaches on the same side as the compromised tooth. Along with your headache, you may also experience sensitivity to hot and cold temperatures, tenderness or swelling around the gums, pain when chewing or fever. An infection needs to be treated promptly!
TMJ Disorder
The TMJ ( or temporomandibular joint) is a leading cause of tension headaches. This joint is comprised of bone, muscles and nerves that allow your jaw to open and close. If the TMJ is irritated, inflamed or over-strained, it can cause radiating pain to your head (as well as your ear and neck). TMJ disorder is often caused by a malocclusion or misalignment of the jaw (bite), but it can also be triggered from nighttime teeth grinding and clenching. It's been estimated that nearly 20 million Americans from TMJ related headaches. Treating TMJ headaches require an accurate diagnosis of your condition and may involve orthodontics, wearing a nighttime oral appliance or other effective treatments.
Are you tired of relying on Aspirin or Motrin to get you through the day? Does your tension headache put you in a bad mood? If you have failed to find relief from your primary physician, it may be time to consider your teeth or jaw as the source of your discomfort. Call Mitzi Morris, DMD answers!