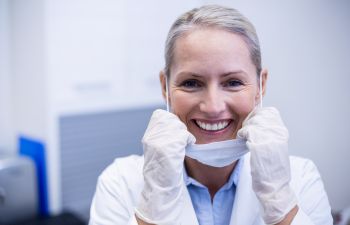 Coffee is among the most popular beverages in the world. In fact, more than 50 percent of the population enjoy a cup of Joe on a daily basis. Therefore, it becomes important to realize just what this drink is doing to your teeth over time. Many people are aware of coffee's ability to stain your teeth . However, there are other risks that involve the health of your smile as well.
Here are some key drawbacks to remember when you desperately reach for that cup of coffee each morning, or decide to make multiple trips to the coffee pot throughout the day.
Deeper Tooth Staining

While coffee is just as dark as red wine or tea, it goes a few steps further in terms of causing tooth stains. Coffee has tannic acids to give it a dark color. Unfortunately, this acid etches into the pits and grooves of your teeth as it stains. In addition, coffee is most often consumed at a hot temperature, which means your teeth can expand and contract as you drink it and the staining can penetrate deeper into the micro-cracks of your enamel.

Dry Mouth

If you are one of the many that use coffee as a daily "wake up," then you are likely choosing a strongly caffeinated variety. Caffeine is considered a diuretic, which causes your entire body to lose essential fluids – even your mouth. When your saliva production is low, you have a much greater chance for decay and even bad breath. Saliva naturally neutralizes the pH level in your mouth as well as rinses your teeth from debris and bacteria throughout the day.

A Sugar Trap

If you drink your coffee black, you can ignore this warning. However, if you like to add creamer, sugar or flavored syrup to your cup of Joe, you need to consider the consequences. All that added sugar can be detrimental for your smile health, especially when it is sipped on over a long period of time.
Can't give up your coffee habit? We understand. However, to protect the health and appearance of your smile, you can make these adjustments or additions to your daily routine:
Drink a glass of water after or with your coffee
Chew sugarless gum when you finish
Use a straw to drink your coffee
Switch to decaf
Use an artificial sweetener or less added sugars
If your love of coffee has already damaged your smile, give us a call at Mitzi Morris, DMD. We offer a variety of services to restore your oral health as well as ways to reverse tooth discoloration.
Mitzi Morris, DMD, PC – Roswell Dentist
1295 Hembree Rd, Suite B202
Roswell, GA 30076
Phone: 678-459-2990