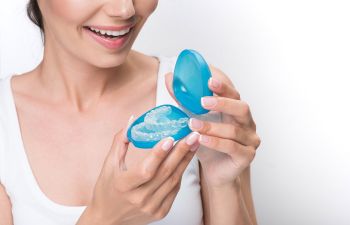 Invisalign represents one of the most innovative and popular options in orthodontic treatment. Straightening your teeth has never been easier using Invisalign's clear plastic aligners that can be removed for eating, brushing and flossing. However, while Invisalign is certainly more preferred and convenient than metal braces, it still requires some attention and care.
Your aligners get removed each day so that you can clean your teeth and gums the way they deserve. To avoid sabotaging your teeth cleaning efforts, however, it is very important to also clean your aligner trays before putting them back in your mouth. Failure to clean your aligners can lead to extra oral bacteria, stuck food particles and staining. To avoid oral health issues such as bad breath, decay and gum disease during or after your Invisalign treatment, follow these tips on cleaning your aligners:
Utilize the Invisalign Cleaning System
We often recommend using the Invisalign cleaning system to clean your aligners, which relies on special crystals to remove plaque in just 15 minutes. You may also brush your aligners with toothpaste under lukewarm water. Please avoid soaking your aligners in mouthwash or harsh ingredients.
Brush and Floss After Eating
Cleaning your teeth after you consume foods and before you put your aligners back in will prevent your aligners from getting yellow or smelly.
Avoid Staining Drinks
You can drink while you are wearing your aligners. However, certain beverages like coffee and red wine can stain your clear aligners and your teeth, which would defeat the advantage of wearing discreet and unnoticeable orthodontics.
Store Aligners in Their Case
When your aligners aren't in your mouth, they should be safely stored in the provided case. It is far too common for patients to wrap their trays in a napkin during meals and accidently throw them away.
Need more tips on how to care for your Invisalign aligners? Keep in mind that each set of aligners are carefully fabricated to move your teeth into better position over time. Failure to wear your aligners (or care for them) could delay your overall treatment time.  Call Dr. Mitzi Morris to schedule your Invisalign consult.