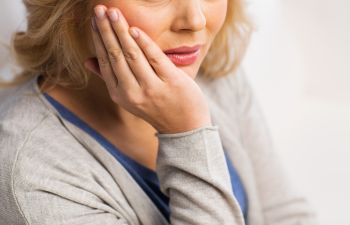 If you've caught a cold or flu virus this season, our deepest sympathies are with you. However, it's our job to look out for your oral health, despite how bad your body feels. While you may want to just stay in bed and neglect your oral hygiene routine while you're under the weather, this can be a serious mistake. Not only are your teeth and gums at risk for certain dental problems if you're sick, but maintaining a clean mouth can actually help speed up your recovery.
Whether you have a cold, the flu or a stomach virus, consider these recommendations pertaining to your oral health:
Rely on Water to Stay Hydrated

Water is the best beverage to hydrate your body, and it'll do so without putting your oral health at risk. It may be tempting to sip on drinks like Gatorade throughout the day, but these choices are high in sugar and acids – the perfect recipe for decay! Your mouth needs hydration to fight off bacteria as well. If you have a stuffy nose, you may be breathing more through your mouth. A dry mouth is another culprit to decay.

Consider Your Cough Medicine Carefully

Cough syrups and cough drops can bring great relieve, but they are very high in sugar. Coating your teeth and gums in a long sugar bath can be detrimental for your smile. If you must take a cough syrup, do so at the same time as a meal or brush your teeth after you consume the medication. When it comes to cough drops, do your smile a favor and choose the sugar-free kind. They are just as effective and much less harmful to your teeth.

Consider replacing your toothbrush

While this is not agreed upon by all dental professionals, we believe it is better to be safe than sorry. Bacteria love to harbor and grow on the bristles of your toothbrush. Go ahead and buy a new brush after you are sick to avoid reinfection. You may also want to replace any other toothbrushes that were stored in close proximity and/or sanitize mouth appliances like biteguards and retainers.

Reschedule Your Dental Appointment

This may be one of the few times we suggest delaying your dental cleaning or other treatment. However, if you are ill or have a fever, please just stay at home to recover.

We hope that you can avoid the cold and flu virus this season, but if you aren't that fortunate, please remember to take care of your smile while nursing your body back to health!