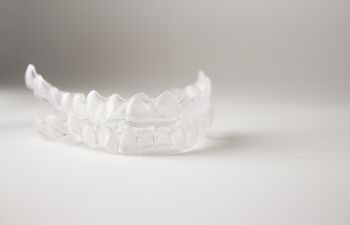 Need to straighten your smile without wearing bulky metal brackets? Invisalign is the perfect alternative to traditional braces. Using this clear aligner therapy, teens and adults can address a wide variety of orthodontic concerns with minimal sacrifice to their lifestyle and self-esteem. Invisalign treatment involves wearing a series of clear plastic aligners (trays) that are custom made specifically for you. Each aligner pair is worn for two weeks before moving on to the next, which means your teeth will gradually and comfortably shift into a straighter and more attractive position without having to come to the office for multiple appointments.
Many adult patients want to know if Invisalign will work for them. More specifically, it is common to question whether this innovative orthodontic system can be used on teeth that have dental crowns or veneers. This is a valid concern, but one we are happy to answer.
Invisalign is Possible with Crowns and Veneers
Whether you have back teeth that have been crowned or front teeth that have been covered with porcelain veneers, you can rest assured that Invisalign is not only possible for you, but your treatment process should not be hindered in any way. Crowns and veneers are simply covers that fit over your natural teeth, so the tooth root or jaw bone is left undisturbed and can be easily moved and manipulated by orthodontic treatment just like teeth without crowns or veneers.
When it comes to veneers and crowns, Invisalign can be an ideal solution in orthodontics because you can remove the aligners during treatment to clean your teeth. Putting fixed brackets and bands on dental restorations doesn't allow you to keep your prosthetic coverings free of stains like you can with Invisalign. In addition, you can properly clean around your veneers and crowns to ward off decay and gum disease.
Just like crowns and veneers, you can also take advantage of Invisalign if you have dental implants. While a dental implant cannot be moved like a regular tooth since it is integrated into your jaw bone, Invisalign can still move the adjacent teeth according to your orthodontic treatment plan. Invisalign would not be ideal for someone who has a full arch of dental implants.
Do You Qualify for Invisalign?
Are you interested in straightening your smile with a discreet, convenient and comfortable option in orthodontics? Call Dr. Mitzi Morris, Roswell's most preferred Invisalign provider for teens and adults. We are happy to answer your questions about what Invisalign involves in terms of treatment, cost and results!