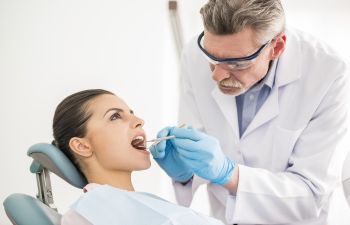 When it comes to dental sealants, most people think of pediatric dental care. And this comes to no surprise since sealants are most routinely offered for kids once their permanent molars and premolars come in. Sealants are an effective preventive tool designed to "seal out" tooth decay during the cavity-prone years of ages 6 to 14. In fact, dental sealants have been shown to reduce childhood tooth decay by more than 70%. Therefore, it comes to no surprise that dental insurance companies typically cover childhood sealants in full.
But what about adults? You are probably well-aware of the fact that adults can also get cavities. So can adults get sealants too? Absolutely. While it is not routinely recommended in adult patients, there are times in which this preventive procedure is just as beneficial. Dentists may recommend adult sealants for adult patients who are at moderate to high risk for cavities on their back molars, which may include those who:
Have deep pits, ridges and grooves in the back teeth
Have frequent cavities on the surrounding teeth
Have dexterity issues that prevent them from cleaning the molars well
Have health conditions that make decay more prevalent (diabetes, dry mouth, etc)
Remember that sealants can only be applied to teeth that don't already have a cavity or an existing filling. They are designed to keep healthy teeth healthy. Sealants are a quick, effective and budget-friendly procedure. In just minutes, the plastic coating is gently applied to the treated teeth. Once the sealants dry, you're ready to go. It is normal for your bite to feel slightly different in the first few hours after getting sealants. Most sealants last about 10 years.
If you think you could benefit from dental sealants as an adult, don't hesitate to ask. At the office of Dr. Mitzi Morris, we are prepared to offer sealants to patients of all ages because we highly value the importance of preventive dentistry!