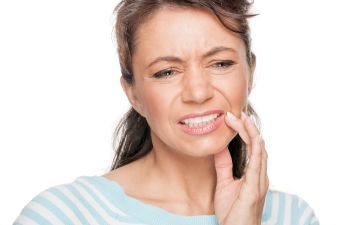 Facial pain can take on many forms. It can be dull, sharp, persistent or sudden. In the majority of cases, however, orofacial pain can be traced back to a dental issue or jaw disorder (TMD). Orofacial pain is defined as any pain which is felt in the mouth, jaws and the face.
If you've ever suffered from facial pain, you know how important it is to find relief. The first step to treating orofacial pain is determining the culprit. Here are some top reasons why your face hurts:
Dental Abscess
A dental abscess is a pocket of infection near the root of the tooth. Since it involves bacteria reaching the nerves and blood vessels of your tooth, the resulting pain can be unbearable. Whether your tooth infection was triggered from severe decay, gum disease or a cracked tooth, the disruptive symptoms can extend into your facial region. If you have facial pain or swelling associated with a dental abscess, you need immediate treatment.
Dry Socket
A dry socket most often occurs after a tooth has been extracted. It is a painful condition in which the blood refuses to clot in a proper manner. Dry sockets are something that your dentist will monitor closely after tooth removal. However, if severe enough, dry socket can lead to facial pain.
Temporomandibular Joint Disorders
Many people are plagued by jaw pain, or TMJ symptoms, on a daily basis. When the jaw joint (TMJ) is strained or injured, it cannot perform its job of opening and closing the mouth in a comfortable, healthy manner. TMJ disorders are often caused by a misaligned bite and/or teeth grinding. Nonetheless, jaw joint malfunction can certainly produce facial pain. In fact, many suffer experience ear pain and chronic tension headaches.
While the above-mentioned causes can be addressed by a dentist, there are also other reasons for your facial pain, including sinus infection and trigeminal neuralgia. At Mitzi Morris, DMD, we offer a variety of treatments for tooth pain and facial pain. However, if we are unable to address your symptoms, we are happy to work collaboratively with your physician to ensure you find the relief you deserve.