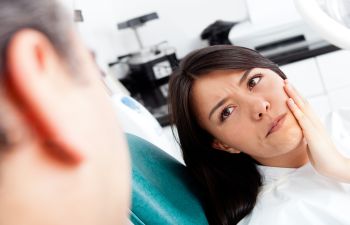 Your teeth are remarkably strong. Unfortunately, they are not invincible. Teeth can crack or fracture under certain pressures. But don't panic, a cracked tooth doesn't mean you will lose your tooth. In fact, it may not even mean that you will need a major or costly repair. Here's a closer look at what you can do if you crack a tooth and the ways a dentist can treat that tooth.
Call Your Dentist First
Most people know when they have cracked a tooth. It may not bring extreme pain, but many patients feel an odd sensation or know that something went wrong. Cracked teeth can occur during contact sports, a wayward bite on a hard food (ice or hard candy) or when using your teeth to open a package. More gradual fractures can also happen if you grind your teeth at night.
Regardless of how you cracked your tooth, your first course of action should be to call your dentist. Same day appointments or emergency dental care services are warranted in situations like this. A dentist needs to examine the severity and location of the crack and ensure further fracture or infection doesn't follow. As you wait to see a dentist, you should try to clean your mouth (warm salt water rinse) and avoid chewing on the side of your cracked tooth.
Treating a Cracked Tooth
There are several options available when it comes to saving a cracked tooth. Which treatment is best for you will be determined by the severity of the damage. A hairline crack may simply be a cosmetic issue that can be remedied by dental bonding. However, cracks that reach the inner pulp of the tooth may require more substantial repair. Here's a basic guideline for repairing a cracked tooth:
Smaller, less severe cracks can involve dental bonding to fill in the crack and strengthen your tooth against further damage.
A cracked tooth that is painful when you bite down means the mastication pressure is separating the pieces of your tooth as well as irritating the tissue and nerve endings inside your tooth. Therefore, a natural-looking dental crown is often needed to restore this type of tooth crack.
Severe cracks that involve the presence of bacteria inside the tooth are often painful and infected. Such cases require root canal therapy followed by a dental crown for full restoration of the health and structure of the tooth.
Be Smart With Your Smile
Your teeth offer significant function to your daily living. How well are you taking care of them? Practice smart habits to avoid cracked teeth, such as wearing a mouthguard during sports or at night if you grind your teeth. As always, use scissors to open packages and don't crunch ice with your teeth. If a dental accident does occur, you can trust that Dr. Mitzi Morris is exceedingly equipped to handle it. Our Roswell office offers advanced technology and materials to ensure your cracked tooth or other emergency dental issue is resolved quickly and effectively. Call today for same day dental care!