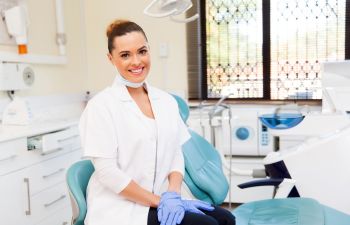 The thought of your dentist offering Botox injections may take you off guard at first. A service that was once reserved for your dermatologist or plastic surgeon is now becoming more and more popular as an optional cosmetic service at your dentist's office. There are actually some noteworthy and significant benefits to choosing your dentist for Botox injections.
A dentist carries the most advanced training and knowledge in the facial, oral and perioral areas than other specialists. A cosmetic dentist in particular is very aware of the aesthetic appearance of the mouth and facial structure and is trained to make appropriate enhancements. Choosing a dentist for Botox means you have a trusted professional who understands the complexity of your facial muscles and nerves and is more familiar with how to take care of complications in these areas than other healthcare providers.
Botox provides effective, proven results when it comes to reducing or eliminating wrinkles around the eyes, forehead and mouth. Not only is Botox a perfect age-defying compliment to your new smile makeover or a teeth-whitening service, but it can also be used for other clinical uses in dentistry. It can be used in TMJ and bruxism cases to help patients with chronic TMJ and facial pain. A cosmetic dentist can also use Botox as an alternative to surgery in patients who have a high lip line. Furthermore, denture patients can benefit from Botox to help them adjust to their new appliance as well as orthodontic patients who need to retrain their facial muscle. Botox in the dental field carries many capabilities, helping patients both functionally and aesthetically.
Regardless of where you go for Botox, here is how it is intended to work. The anti-aging actions for Botox is really quite simple. Botox is injected into the facial muscles, yet it doesn't actually affect the muscle at all. Botulinum toxin affects and blocks the transmitters between the motor nerves that innervate the muscle. Once the motor nerve endings are interrupted, the muscle stops contracting, which means the dynamic motion that causes wrinkles in the skin will also stop. In approximately three to ten days after treatment, the skin above those muscles will become smooth. You can expect Botox results to last for approximately three to four months.
Dr. Mitzi Morris is a cosmetic dentist who is proud to offer Botox injections to patients as an excellent way to frame your new smile!