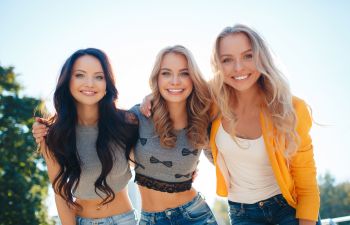 Brushing and flossing are certainly your best weapons against cavities and gum disease. But did you know that you can support your oral health with your diet too? One of the most influential vitamins towards healthy teeth and gums is Vitamin D. While calcium may get all the attention for keeping your teeth and bones strong, it is Vitamin D that allows calcium to be absorbed and used by the body. Therefore, without Vitamin D, those servings of milk, cheese and other calcium-rich foods that you get your daily diet are stripped of value and rendered useless towards your health.
How Vitamin D Helps Protect Your Teeth
Your teeth are not inanimate objects that need polishing. Your teeth are living functions of your body. Underneath the strong enamel layer of your teeth is a softer dentin layer that contains live cells that the body uses to protect the blood supply and nerves inside your teeth. Keeping that enamel layer strong and healthy is important and it can be accomplished from within, from what your body ingests in terms of vitamins and minerals.
Calcium helps to build the bony structure that makes up tooth enamel. Without Vitamin D, however, calcium can't be absorbed. In addition, your dentin houses cells that border your enamel. These cells can release immune factors if the dentin needs repairing. However, Vitamin D levels must be up to par to fuel your body's defense system, even when it involves the inside of your tooth!
Your dental defense (or immune) system is important. It's how your body will fight against the bacteria that causes decay and gum disease. Gingivitis, which is the first stage of gum disease, isn't just an indication of poor dental hygiene, it can also be a warning sign of an inflamed immune system caused by poor nutrition. Your mouth and body are intricately connected, so don't dismiss the way your diet can impact your smile health.
Are You Getting Enough?
You may recognize the sun as an optimal way to get Vitamin D. While this is true, you can also manage your vitamin D levels through food or supplements. Along with getting 30 minutes of natural sunlight each day, consider Vitamin D foods like fatty fish, eggs, organ meats, and dairy products from pasture raised animals (butter, yogurt and cheese).
At Mitzi Morris DMD, we take pride in our ability to recognize how your whole-body health and nutrition influence your oral health. Along with routine cleanings and proper oral hygiene, we also educate patients about the importance of certain vitamins and minerals. If you are concerned that your Vitamin D levels are compromising your dental health, please schedule an appointment Dr. Morris.