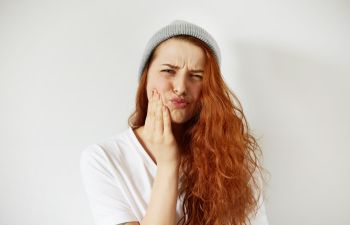 In today's fast-paced society, stress is commonplace. Unfortunately, when stress isn't properly managed, it can wreak havoc on your body. In fact, high levels of stress on a consistent basis can affect your skin, your heart, your digestive system and even your oral health. When it comes to a "stressed out" mouth, there are some notable consequences.
Are your stress levels impacting your smile health? Consider these signs:
Gum Disease
While stress hormones don't directly cause gum disease, the common lifestyle habits of a high-stressed person can lead to this serious oral health condition. It is typical for a person under stress to gravitate towards sugary, high-carb foods as well as let their oral hygiene routine slack off. This creates the perfect environment for excessive oral bacteria that causes inflamed and infected gums. If your diet or brushing habits have changed due to your stress, it is important to take a look at the condition of your gums before it is too late. Gum disease can be conservatively treated at an early stage.
Mouth Sores
Many patients find themselves battling painful canker sores or fever blisters under times of stress. Canker sores are common when your immune system is compromised and your body can't fight off bacteria or viruses like it normally would. Fever blisters, caused by the herpes simplex virus, are known for making their appearance during times of emotional upset and anxiety.
Sore Jaw and Worn Down Teeth
Unfortunately, many people turn to bad oral habits in response to stress. This can take the form of nail biting, pencil chewing or teeth grinding. All of these habits can cause your teeth or dental restorations to wear down prematurely. It can also affect your jaw muscles due to the extra strain, leading to TMD symptoms of jaw popping, headaches and facial pain.
If you are concerned that stress may be threatening your smile health, let us know. At Mitzi Morris DMD, we always recommend that patients find ways to properly deal with their stress to prevent consequences within their oral health. However, if the damage has already occurred, we can offer a variety of treatments to restore your smile health, from periodontal treatments to custom nightguards for teeth grinding and more.