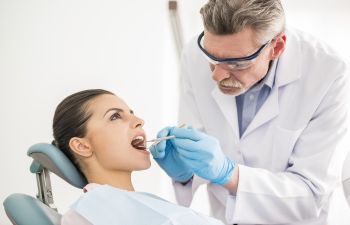 Your teeth are made of the strongest substance in your entire body. The outer layer, or enamel, of your teeth can withstand significant forces on an everyday basis. Unfortunately, this protective layer of your teeth is not invincible. When a tooth suffers frequent friction and stress or is exposed to corrosive substances, the enamel can erode. Tooth erosion is an irreversible trauma and should be treated righted away.
Causes of Dental Erosion
Tooth erosion involves a "wearing thin" of the protective enamel layer. It can be caused by a variety of factors, including those you can control as well as those you may not be able to avoid. If you can identify with the following, you are at risk for dental erosion:
Excessive soft drink consumption (high levels of phosphoric and citric acids)
Fruit drinks (some acids in fruit drinks are more erosive than battery acid)
Dry mouth or low salivary flow (xerostomia)
Diet (high in sugar and starches)
Acid reflux disease (GERD)
Gastrointestinal problems
Medications (aspirin, antihistamines)
Genetics (inherited conditions)
External friction and stress (aggressive brushing habits or bruxism)
What's the Big Deal About Erosion?
There's good reason why dental erosion should be on your radar. First, the outer enamel on your tooth is there for a reason. It serves as a protective shield for your sensitive tooth nerves. When the enamel erodes, you may experience painful sensitivity as well as be more vulnerable to decay and infection. Last but not least, you may notice that your eroded teeth look more yellow or dull than normal. This is because the inner dentin layer becomes more visible when the enamel is thin, and dentin holds a darker color than the white enamel.
Taking Action
Are you at risk for dental erosion? Are you experiencing signs of existing erosion on one or more teeth? While you may not be able to control your genetics or your medication, we can determine the factors that you can control –such as being mindful about consuming acidic drinks or wearing a nightguard to protect your smile from teeth grinding. Dr. Morris can also recommend bonding, a dental crown or other restorative procedure to help your tooth regain optimal integrity and health if erosion has already occurred. Call our Roswell office today to learn more.