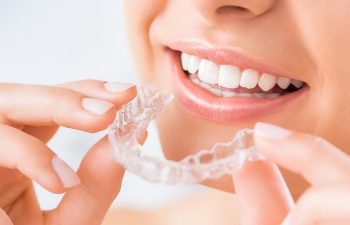 Crooked teeth aren't just a compromise to your appearance and self-esteem. When teeth are crowded, gapped and misaligned, they can also cause a host of dental problems. If you are an adult who needs orthodontic treatment, you'll be glad to know that there are ways to straighten your teeth without metal brackets and wires. Invisalign is a discreet, comfortable and highly convenient method for adults and teens to get the straight and beautiful smile they deserve.
What is Invisalign?
Invisalign is a customized orthodontic treatment that uses clear, removable aligners made out of a flexible plastic called SmartTrack®. These retainer-like devices are given to patients in sets to gradually shift the teeth into their proper position. Invisalign aligners are just as comfortable as there are effective. In fact, most people won't be able to tell that you are undergoing orthodontic therapy.
Is Invisalign Right for You?
In general, most patients make good candidates for Invisalign. This clear aligner therapy is effective for teens and adults who want a more discreet and comfortable option than traditional braces. Invisalign works to address overbites and underbites, as well as crowded or gapped teeth. Those with severe orthodontic issues may not qualify for Invisalign.
If you're considering Invisalign aligners, here are a few helpful questions to ask yourself to determine if this is the right orthodontic solution for you:
Have your jaws finished growing? Small children and younger teenagers typically should not receive Invisalign treatment because their jaws and teeth are still growing, and the custom fit of Invisalign can become a challenge.
Can you stick to the treatment schedule provided to you by your dentist? Invisalign aligners can be easily removed for brushing, flossing and eating. However, it'll be up to you to make sure you keep your aligners in at least 20-22 hours of the day. If you can't commit, you'll waste your investment and your time.
Are you worried about your appearance? If you'd rather not show off flashy metal braces to your co-workers, peers and other audiences, we understand. For such individuals, Invisalign is a perfect solution.
Getting Started
dentist who has been trained in providing Invisalign treatments. If it is determined that you are a good candidate for this method, you and your dentist will develop a customized treatment plan that will allow you to know exactly what to expect from the entire process.
Invisalign Special in Roswell – Don't Miss Out!
Only a qualified Invisalign provider can accurately determine your candidacy for Invisalign. By choosing Dr. Mitzi Morris in Roswell this month, you can take advantage of our Invisalign Special, which includes a complimentary Invisalign consult and scan (a $350 value)! With the latest Invisalign scanning technology, our patients can find out within minutes if they are a candidate. Make sure you call us by August 31st to get the special!