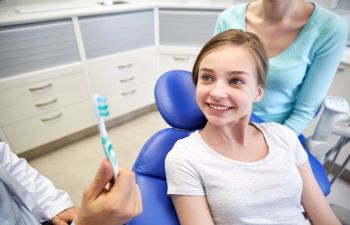 The consequences of decay can be detrimental to a child's dental health, as well as their overall well-being. If the decay is not treated in a timely manner, a child may avoid healthy food options and/or experience challenges in speech and social interaction. Untreated cavities can also disrupt their oral development in the years to come. This makes preventative dental care for kids a top priority.
There are a number of preventive tools that can be used to keep decay away from your child's teeth. Among diligent oral care at home and professional cleanings from a dentist, there is another very effective way to protect young smiles – dental sealants.
What Are Sealants?
Dental sealants have been used for decades as a highly preferred way to "seal out" cavities. Sealants consists of a resin or glass-like material that coats the pits and crevices of teeth. Most often, sealants are applied to the molars, since these are the back teeth that can more easily harbor food debris, bacteria and plaque.
How Are Sealants Applied?
Here's the best part – sealants are super easy to apply, and the process is quick and painless. The sealant material is gently painted or brushed on the affected teeth in a liquid form. Next, a special curing light is used to harden the sealants to create a durable layer of protection. There's no need for needles, drilling or other invasive measures!
How Effective Are Sealants?
Recent studies have reported that children who don't receive dental sealants are up to three times more likely to have cavities! Sealants can't protect the teeth forever. But, most sealants are effective for up to 10 years with proper care, according to NIDCR estimations. They will eventually wear down, so there is no need to actually "remove" a sealant.
Are Sealants Just For Kids?
While sealants are recommended for young patients by the American Dental Association and the American Academy of Pediatric Dentistry, that doesn't mean kids are the only ones who can benefit from this type of smile protection. Adults who are susceptible to decay or battle frequent cavities can also receive dental sealants. If you think you are a candidate for sealants, simply talk to your dentist. At Mitzi Morris, DMD, we are all about protecting your smile. We are happy to support any preventative measure to keep your teeth and gums healthy through all stages of life, contact our office today!