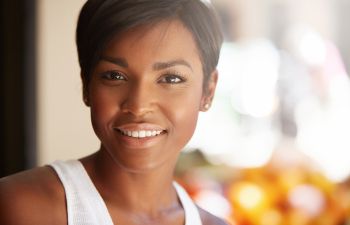 Does your dental implant feel or look differently than it once did? Although very rare, dental implant problems should be addressed right away. Dental implants carry a remarkable success rate of over 98%. However, they are still subject to failure or damage from time to time. When it comes to seeking dental implant repair, the sooner the better!
What are common dental implant problems?
The majority of dental implant repairs involve repairing the crown (or prosthetic tooth portion) of the implant. This may involve a crack or break in the crown. Patients may also feel that their implant is loose or not as stable.
How do dental implants become loose?
One reason for a loose dental implant can be traced back to osseointegration failure. Osseointegration refers to the process of the titanium implant post fusing to the surrounding jaw bone in the weeks and months following implant surgery. If osseointegration never fully took place, your implant may not have established a secure foundation. In addition, the development of gum disease or infection can destroy the underlying bone and cause the implant to loosen.
What does dental implant repair involve?
This is based on which portion of the implant needs restoration. A crown that is damaged or fallen off can be more easily and quickly repaired. Make sure to bring the crown with you if it has fallen off. In many cases, we can bond the crown back to the abutment piece or repair the fracture while it is still in your mouth. Even if the crown needs to be fully replaced, the treatment process is simple and straightforward, as we will already have your crown measurements and fabrication guidelines.
If your problem resides with the implant itself, the repair process can be much more extensive, as the implant may need to be removed and replaced entirely. Some patients may also require an additional procedure of bone grafting if lack of bone density caused the implant to lose stability. The procedure steps and recovery will be much like it was when you originally got your implant placed. Again, implant failure is quite rare.
Contact Mitzi Morris, DMD
Dental implants have the profound ability to mimic your natural teeth is function, appearance and feel. If your dental implant is compromised in any way, call a dentist who specializes in implant restoration. For patients living in the Roswell area, you can trust Dr. Mitzi Morris for all types of implant repairs. Your implants are an investment worth protecting.