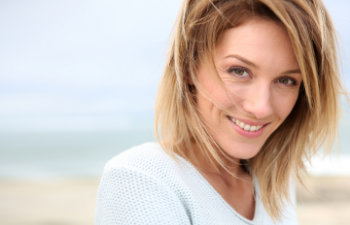 As much as you try to embrace and appreciate the uniqueness of your smile, it is common to have areas of your teeth that you are just unhappy with. Teeth that are stained, chipped, disproportioned or gapped can be a major threat to your self-esteem. At the office of Dr. Mitzi Morris, we get it. You'll be glad to know that there is a popular cosmetic dentistry treatment that is not only painless, but also brings instant results. Porcelain veneers are a "no pain, all gain" solution for your instant smile makeover.
What are Porcelain Veneers?
Porcelain veneers are designed to address imperfections on the front, visible teeth. They consist of wafer thin shells of porcelain that are bonded directly to the front surfaces of the teeth. In order to allow the veneer to adhere properly, a tiny portion of your tooth must be shaved off before the veneer is placed. Rest assured that cosmetic dental veneers are highly durable and made to withstand everyday chewing function with ease. They are also stain-resistant, allowing you to enjoy a brilliant smile for years to come.
Reasons to Get Cosmetic Dental Veneers
Porcelain veneers are considered one of the greatest breakthroughs in cosmetic dentistry. In just two office visits, patients can achieve a white, balanced and beautiful smile. Dr. Mitzi Morris uses porcelain veneers to permanently correct the following types of aesthetic concerns:
Slightly crooked teeth
Gapped teeth
Disproportioned or misshapen teeth
Discolored or stained teeth
Chipped teeth
Wondering if porcelain veneers are right for you? Just schedule a consult at our Roswell office to learn how easy it is to improve your smile. We will listen carefully to your specific goals for treatment and take extra measures to ensure you receive a highly rewarding experience from beginning to end.