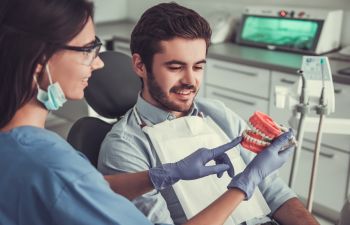 Not only do our teeth hold a powerful place in our appearance, but they also play the critical role of allowing us to speak and chew. We only get one set of permanent teeth to last a lifetime. While our teeth are made of the strongest material in the human body, that doesn't mean they can't wear down or suffer damage under certain pressures.
At the office of Dr. Mitzi Morris, we want patients to understand the common, everyday habits that can wreak havoc on their teeth. If you engage in one or more of the following, do your best to kick the habit. It could help you avoid future tooth loss!
#1 Using tobacco.
Smoking affects more than just your heart and lungs. In fact, any product that contains tobacco (cigarettes, cigars, e-cigarettes) can wreak havoc on your oral health. Not only are stained teeth and bad breath a concern for smokers, but tobacco use also raises your risk for gum disease and tooth loss.
#2 Chomping ice.
Ice may seem harmless. After all, it's just frozen water. Unfortunately, ice is too hard for your teeth to break down. Regularly chomping ice can lead to enamel damage, chipping and even broken teeth.
#3 Sipping on sugary drinks.
Soda and sugary drinks should be limited. However, if you are going to drink one, keep your teeth exposure to a minimum but not sipping on it throughout the day. It is best to drink it all at once and rinse with water afterwards.
#4 Using teeth as tools.
Never use your teeth to open packages. We recommend scissors for these tasks.
#5 Nail biting.
Not only is nail biting very unsanitary, it can also damage your teeth in the same way that crunching hard candy or ice can.
#6 Stress-Induced teeth grinding.
Do you grind or clench your teeth during times of stress? Bruxism is often a sub-conscious and stress-induced habit, but it can pose threats to your teeth and jaw over time.
#7 Overdoing it with teeth whitening.
We all want a brilliant white smile. But more whitening product is not always better. If you are experiencing sensitivity from frequent over-the-counter whitening products, we suggest you back off and recognize that your mouth needs a break.
#8 Going to bed without brushing.
Daily brushing and flossing are non-negotiable for a healthy mouth. If you have slacked off lately and made a habit of skipping your teeth cleaning sessions, your teeth will suffer the ramifications. Stick to a twice a day schedule of brushing and visiting your dentist for professional cleanings every six months.
Think your habit may have already damaged your smile? We can help. Contact Dr. Morris in Roswell today.