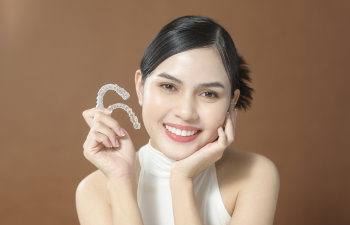 While braces are common and almost expected on children and young teenagers, orthodontics is not as readily accepted for an adult. Still, there are many adults who want straighter teeth and need orthodontic treatment. Fortunately, adults no longer have to revert back to adolescence and wear metal brackets on their teeth to get a more aligned smile.
Dr. Mitzi Morris is a proud Invisalign provider in Roswell who welcomes the opportunity to help adults undergo an orthodontic treatment option that is more convenient, more comfortable and better accepted for their stage of life.
Adult patients choose Invisalign over traditional braces for several reasons. Here are some common factors that contribute to the preference for Invisalign:
#1 Aesthetics
Invisalign offers a more discreet orthodontic treatment option compared to traditional braces. The aligners used in Invisalign are clear and virtually invisible when worn, making them less noticeable. This can be particularly appealing for adults who may feel self-conscious about wearing visible metal brackets and wires.
#2 Removability
Invisalign aligners are removable, allowing for more flexibility in daily activities. Unlike traditional braces, which are fixed to the teeth, Invisalign aligners can be taken out when eating, drinking, brushing, and flossing. This means that there are no dietary restrictions, and oral hygiene routines can be maintained more easily. Additionally, the ability to remove the aligners for special occasions or photos can be desirable for adults.
#3 Comfort
Invisalign aligners are made of smooth plastic, which tends to be more comfortable compared to the metal brackets and wires of traditional braces. The absence of wires that can cause discomfort or irritation to the mouth and gums is an advantage for some adults.
#4 Convenience
Invisalign treatment typically requires fewer visits to the orthodontist compared to traditional braces. With Invisalign, the aligners are usually provided in sets, and patients can switch to a new set at home every few weeks, as instructed by their orthodontist. This can be more convenient for adults with busy schedules who prefer fewer trips to the orthodontist's office.
#5 Predictable Results
Invisalign treatment utilizes advanced computer imaging technology to create a digital treatment plan. This allows patients to see a virtual representation of their teeth's movement and the expected results before starting treatment. The ability to visualize the final outcome can be motivating for adults, as they have a clear understanding of what to expect throughout the treatment process.
#6 Less Impact on Lifestyle
Invisalign aligners are designed to fit into a patient's lifestyle with minimal disruption. They require fewer adjustments compared to traditional braces, and there is generally less discomfort associated with the aligner changes. Additionally, sports and musical instrument playing may be easier with Invisalign since there are no brackets or wires that could potentially cause injury or affect performance.
Most orthodontic issues can be corrected using this innovative clear aligner system. Schedule your consult with Dr. Morris today to learn if Invisalign the right option for your specific dental needs and goals.