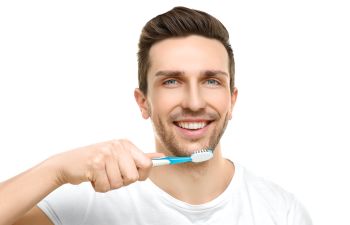 While your dental office may be closed for routine visits during this unprecedented time in our nation, that doesn't mean your dental health can or should take a backseat. In fact, caring your smile always starts at home. Despite the drastic disruption in your schedule and daily routine, there are still ways to not only protect your dental health from home but also improve it!
#1 Tend to Your Toothbrush.
Your toothbrush is your most powerful weapon against dental health issues like cavities, gum disease and more. How well are you taking care of your toothbrush? If it looks frayed or you've been using it for longer than 3 months, you'll need to replace it. Store your toothbrush upright and at least six feet away from the toilet. Avoid sharing your toothbrush with family members or even storing it in the same container as a child, sibling or spouse. Keeping your toothbrush free of germs is paramount for a healthy and clean mouth!
#2 Drink Water Often.
Your entire body needs water to survive and function. However, H20 is especially beneficial to your teeth and gums. Water keeps your mouth moist, but it also rinses away food debris, sugars and acids that are harmful for your smile. In turn, drinking water frequently throughout the day can help you avoid cavities, bad breath, tooth stains and gum disease!
#3 Be Smart with Snacking.
If you've visited the pantry or refrigerator more times than usual during the past few weeks, you are certainly not alone. However, don't let your homebound snacking habits ruin your smile. As much as possible, stay away from snacks that are sticky, sugary or acidic, as these can wreak havoc on your tooth enamel over time and invite decay. Consider some tasty snacks that are not only safe for your smile but also known to protect your teeth, such as cheese, plain yogurt and raw veggies.
At the office of Dr. Mitzi Morris, we know that it is impossible to prevent all dental problems. When you or your family suffers from unexpected tooth pain or a mouth-related accident, please do not hesitate to call our office. We are always here to treat your dental emergencies while doing our best to help you keep a healthy smile from home.