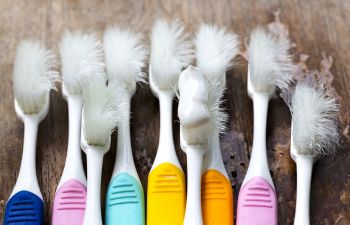 Many of us rely on our dentists to keep our teeth and gums in top shape. While your dentist is certainly qualified to care for your smile, the reality is that the most contributing factors to the status of your dental health come from you. What you do in between your six-month checkups is what primarily sets the stage for a healthy smile. Here are some ways to help you do your part at home:
Use an Electric Toothbrush
The electric toothbrush is one of the biggest advances in home dental care; are you taking advantage of it? A large majority of patients do not brush correctly with a manual toothbrush and they are certainly falling short of the full two-minute session that is recommended. Electric or sonic toothbrushes, especially ones that include a timer, can effectively remove plaque in hard to reach places with little effort on your part. If you are battling tooth decay, gum disease or even bad breath, consider switching to a power-operated toothbrush for a healthier mouth.
Consider a Mouthguard
If you grind or clench your teeth while you sleep, a custom night guard is an essential addition to your at-home dental care. Without a mouthguard, grinders can wear away a millimeter of tooth structure per year and suffer from TMJ problems, headaches and more. A custom mouthguard should also be worn by any athletes in your home. A mouthguard during sports is an easy way to protect your smile from mouth trauma and tooth damage.
Choose The Right Hygiene Routine For You
The range of oral care products available can be overwhelming. There are toothpastes, mouth rinses and floss products that are designed to address an expansive list of smile concerns, including stains, cavities, sensitivity, and more. Work with your dentist to determine which combination of products is best for your unique smile. Using the right oral care products can make a profound difference in the longevity of your teeth.
At Mitzi Morris, DMD, we do our very best to educate patients on how to care for their smile at home. Even the smallest adjustments to their oral hygiene regime can make a significant impact on how their teeth look, feel and function.