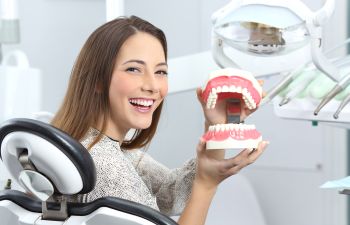 Who doesn't love mealtime? Gathering with family or friends and eating your favorite foods can be one of the most enjoyable experiences – unless you suffer from TMD (temporomandibular joint disorder). The jaw discomfort that accompanies TMD can drain the pleasure from these dining experiences when the simple act of chewing is a painful ordeal.
TMD develops when the jaw joint (TMJ) becomes overstrained, inflamed or damaged. Since the TMJ controls how we open and close our mouth, when this malfunctions, it can cause a number of disruptive symptoms that make chewing difficult and even painful.
At the office of Dr. Mitzi Morris, we don't want patients with TMD to limit their eating choices or compromise a healthy diet. We also don't want them to avoid eating with loved ones altogether. Therefore, our office not only diagnoses and treats TMD, but we also recommend the following mealtime tips for those who suffer from this oral health condition.
Prepare your food. Whenever possible, try to think ahead. For example, if there are tougher peels or skins on your fruits and vegetables, remove them ahead of time. In addition, chopping food into small bites can greatly ease your discomfort and limit stress on your jaw joint during mealtime.
Choose "wetter" cooking methods. One of the best ways to soften foods is to moisten them, either with how you cook them or by adding sauces or gravies. This allows you to keep vegetables and lean meats on your plate despite your battle with a stiff or popping jaw.
Modify your eating habits. A simple change in how you chew your food during a meal can go a long way in alleviating TMD symptoms. Eating smaller bites and slowing down your chewing motion can keep your jaw in a more comfortable range.
Talk to a Jaw Pain Specialist in Roswell
Having TMD can often mean a wax and wane of symptoms. However, avoiding a TMJ flare-up doesn't have to mean restricting yourself to a soft, carb-rich diet. Call our Roswell dental team today to learn how you can manage your TMD and still live an enjoyable and healthy life!