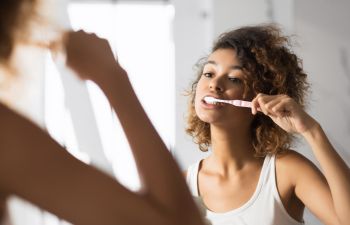 If you brush your teeth twice a day and consider yourself a good flosser, why are your teeth getting weaker instead of stronger? It may be some of your everyday habits that are sabotaging the strength of your smile. Weak teeth are often sensitive and especially vulnerable to cavities and damage. To avoid enamel weakening across your smile, be sure to avoid these common yet harmful daily habits:
#1 Chomping Ice
Whether you do it out of boredom or as a subconscious habit when you're nervous, chewing ice is dangerous for your teeth. While you won't acquire any calories or cavities from your ice chomping habit, biting down on these frozen cubes of ice can cause damage to your teeth. While you may avoid a crack or break in your tooth, ice chomping can still be causing enamel damage, or a weakening of the outer layer of your tooth structure.
#2 Sipping Sugary Drinks
While hard candies and sugary foods can certainly be a recipe for dental disaster, you should also consider what you are drinking. Sipping on beverages that are high in sugar or acid (or both) can wreak havoc on the strength of your teeth over time. If you must have a sports drink or soda, try to drink it in one sitting and rinse with water afterwards to avoid the acid erosion and enamel damage that will occur when your teeth are bathing in these liquids throughout the day.
#3 Brushing Too Hard or Too Often
More isn't always better when it comes to brushing your teeth. While we always want to complete the task twice a day, there is such a thing as "over-brushing." Brushing too hard, too long or too often can cause weakening of your tooth enamel. Remember that plaque is a thin sticky film that is easily removed with gentle brush strokes. No hard scrubbing is required for a clean smile.
Are you guilty of these daily habits? If you are experiencing sensitivity or other suspicions of weak teeth, call Dr. Mitzi Morris in Roswell. Our goal is to build, maintain and restore strong and confident smiles at every stage of life.