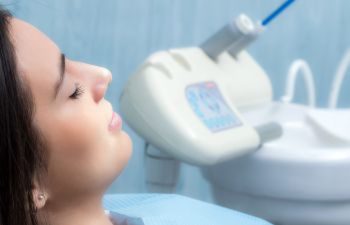 Is fear or anxiety keeping you from the dentist? You are not alone. Reports suggest that nearly 15% of Americans are in the same boat. Unfortunately, neglecting professional dental care can not only put your smile at risk, but it can also pose long-term threats to your whole-body health. When it comes to the anxious patient getting the dental treatments they need, sedation dentistry can bridge the gap!
Sedation dentistry, which can be administered in various forms, involves using sedatives to help patients relax in the dental chair. Contrary to popular belief, sedation dentistry doesn't involve getting "put to sleep." In fact, there is a highly-preferred method of sedation that is mild and very safe – even for kids! At the office of Dr. Mitzi Morris, we are proud to help fearful patient with Nitrous Oxide sedation, otherwise known as "laughing gas".
What is Nitrous Oxide?
Nitrous oxide uses a mask worn over the nose that gives off a gas throughout the scheduled appointment. The approach does not involve the use of needles, and it can also be adjusted when needed. Laughing gas can take effect within just minutes of inhalation, but it also wears off just as quickly after removing the mask. This makes it an ideal choice for patients who need to drive themselves home, return to work or simply continue their afternoon activities.
 Are You a Candidates for Sedation Dentistry?
Besides being fearful or anxious, there are other reasons that a patient may need sedation dentistry, including the following:
Resistant to anesthesia
Fear of needles
In need of complex procedures like surgery
Negative dental experiences
Unbearable dental pain
Dental phobia or anxiety
Severe gag reflex
Highly sensitive teeth
Discomfort caused by the smell and noises in a dental office
Physical limitations
A problem in movement controls
Multiple dental procedures in a single appointment
Want to learn more about sedation dentistry at your trusted Roswell dental clinic? Just call Dr. Mitzi Morris. We can provide Nitrous Oxide during your routine dental cleaning if it helps you keep your appointment!
Posted on the behalf of Mitzi Morris, DMD, PC